BENEFITS OF YOGA
What Is Yoga?
Yoga is a path towards a holistic & healthy lifestyle which can bring balance to our physical body & delicate state of mind.
It consists of various physical postures (e.g. Asanas pose) and breathing techniques (e.g. Pranayama technique) which incorporates a deep level of concentration & inner focus. These techniques are designed to reveal specific effects on the mind which in turn affect the body. And through regular practice of Yoga, one can not only benefit physically, but also be able to obtain a profound & introspective understanding towards spiritual harmony.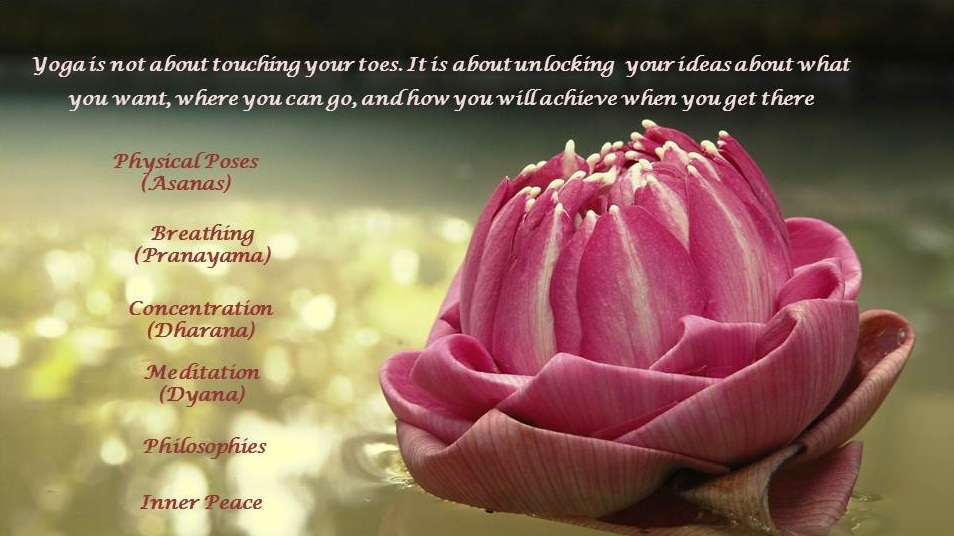 Some benefits of practicing holistic Yoga:
♥ Relieve Stress 
o  A number of studies have shown that yoga can help reduce stress and anxiety.
o  Practicing certain poses and breathing exercises can bring the nervous system to a parasympathetic state. It can also improve your mood and overall sense of well-being.
o  Energize and refresh the body and mind. Improve moral, self-confidence and mood.
o  Increase concentration and efficiency.
♥ Improved physical stamina and fitness
o  Practicing yoga can lead to improved balance, flexibility, range of motion and strength. And this means you're less likely to injure yourself in other physical endeavors or in your daily activities.
o  Improve posture which helps in reducing muscles tension and pain due to long hours of standing or sitting in front of the computer.
o   Improves stamina and physical fitness.
♥ Health and Mental Well-being
o Improve health which reduces the frequency of falling sick.
o Improve smoothness of breath and certain breathing problems such as Sinus, consistent flu.
o Yoga can help reduce risk factors for chronic diseases, such as heart disease and high blood pressure. Yoga might also help alleviate chronic conditions, such as depression, pain, anxiety and insomnia.