Private Yoga for Seniors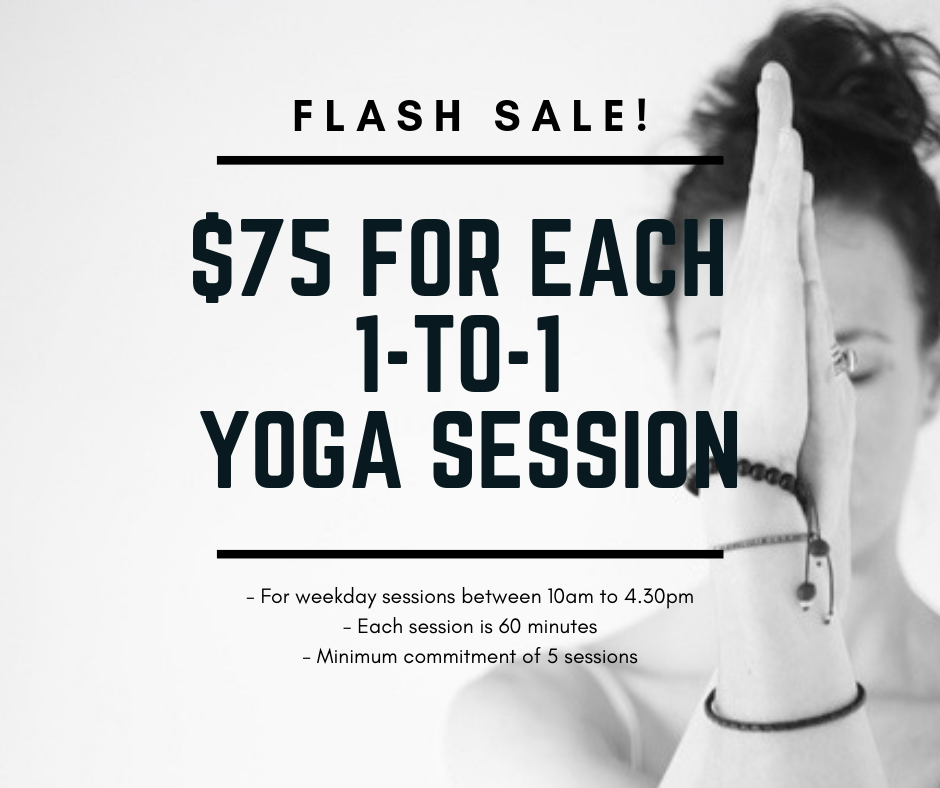 The senior population in Singapore is growing fast and so is their curiosity in living dynamic, healthy lives.
As a form of exercise, Yoga is an extremely beneficial exercise for seniors because it helps in increasing flexibility and balance, enduring pain, relieving fatigue and stress.  Many seniors love Yoga because it contributes to their overall well being and also helps them feel younger.
It also helps to relieve the pains of common ailments such as diabetes, high blood pressure, sciatica, arthritis and many other types of chronic pains.
Private Yoga Classes for Seniors can be customized according to their existing mental and physical conditions. A yoga lesson is also an ideal gift to give to a senior / parent for them to kick start a healthy lifestyle .
So before you get excited for your first lesson, make sure to continue scrolling. Although our private instructors will also be able to assess and pick out ideal poses suitable for your level in a private class setting, there are several factors an older practitioner need to consider before starting any yoga lesson (especially if you are a complete beginner):
One of the greatest things about yoga is the fact that it is adaptable to diverse populations with different fitness levels and needs. However, before starting this exercise you have to consult with your doctor and let him be aware that you are going to start increasing your body's level of activity. Checking with your doctor is also paramount especially if you have, a heart condition, blood pressure, any joint problems and also if you are under any type of cardiac medications.
Before starting yoga classes, make sure you have a personal goal. When you commence this exercise without setting your fitness goals then you will not fully benefit from it. It does not matter whether the goal is short term or long term because setting a goal will help you achieve your desired fitness levels and health benefits. After you have set your goals, do not fail to record your progress as you keep working towards your goals.
What You Will Expect in a Private Yoga Class for Seniors
♥ Customized Lesson Plans
Your personal yoga instructor customizes lessons according to your personal goals and health concerns. In addition, you could also request to learn a custom routine sequence which you can practice at home alone to improve at a faster pace.
A well planned yoga sequence helps learners to achieve the following:
Enhanced mental health
Improved physical health
Better strength & stamina
Ease of flexibility
♥  Safe Yoga Practice
If you have health conditions, muscle injuries or strains, it is very crucial to inform your personal yoga instructor about it. This allows the instructor to plan ahead for your health conditions. There are certain do's and don'ts of yoga poses (asanas) that experienced and knowledgeable instructors should be able to advise. We aim for safe practice that does not worsen any existing health issues or injuries.
♥ Personalized Calendar
Learners have the flexibility in choosing the dates for their Private home yoga classes. The  preferred time, day and location can be booked according to your availability.
A 60 minutes class is held at a location of your convenience, it  could be at the comfort of your home, office, gym or park! Moreover, developing a yoga practice at home provides utmost convenience as it saves the hassle and time for transporting from place to place.
This is extremely convenient if you're really busy, have unfixed schedules or travel extensively.  In terms of frequency of practice, we recommend once or twice a week to see improvements and let the benefits sink in eventually.
What you need to prepare for the home yoga classes
A yoga mat, strap, block, pillows and sportswear
Clean and uncluttered space in the living room
Well-ventilated area, A/C is not necessary, a good fan will suffice
Rates for Private One to One Home Yoga
Single Class: S$110
5 Class Pack: S$450 ($90 per session)
10 Class Pack: S$800 ($80 per session)
Whatsapp +65 91153113 or send your details to book a class with us.
Share your concerns, your purpose of learning Yoga and include a proposed date, time and location you wish to have your lessons.
Kindly allow us 24 hours to get back to you.