Instructors
Kim Tay, Partner Instructor, Classic Yoga
♥ Her Journey
When I took my first ever yoga class it was not a consistent practice as I felt I was 'not flexible enough' to do yoga. Regular practice only started several years ago when I started practicing in a studio with teachers who place a lot of emphasis on safe alignments in poses and just being comfortable when practicing yoga.
With proper guidance in my yoga journey, I soon realise that yoga is meant for EVERY BODY, regardless of your flexibility. I also found calmness and peace in my hectic everyday life by simply devoting that one hour of practice just for myself, my mind and body. My daily migraine which developed after pregnancy was also cured after regular yoga practice.
I firmly believe that yoga is for everyone, one just need to find the right style and teacher to guide him/her through the yoga journey. With patience and practice, all will come in place.
Mariana, Instructor
♥ Her Journey
My love affair with Yoga began in 2012 in Mexico and since that time, it has consumed me and become my new way of life. I see yoga as a discipline, not only to improve our physical health and wellbeing but also to cultivate other qualities like calmness, stillness, control of the breath, concentration and balance, both on and off the mat. I hope to provide the students in my class, with the space to build their own self-confidence.
Po Chu , Instructor
♥ Her Journey

Po Chu is a yoga practitioner for over 20 years and a certified yoga instructor who strongly believes in the therapeutic benefits and neurological effects of pranayama, asanas and meditation practices. An advocate of yoga is for everyone. A firm believer that yoga techniques help in stress management, the relief of bodily pains, slowing the process of aging and developing mindfulness, and especially achieving total personal well-being.
Phyllis, Instructor
♥ Her Journey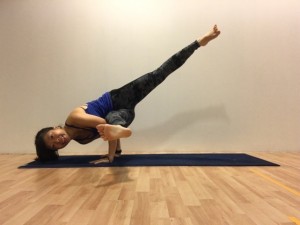 Phyllis first jumped onto the yoga mat in year 2011 and got unexpected sense of bliss. She decided to share this positivity with everyone and took up the 200hour Yoga Teacher training with Andrey Lappa. There she got herself certified in Universal Yoga and started teaching private and studio classes. Phyllis believes that there is always something to learn in every class for both students and teacher. She is always mindful to make yoga accessible to all levels of practitioners in class and that the students have fun on the mat to keep them coming back for practices.
Ashleigh Yeo, Instructor
♥ Her Journey
Ashleigh is an avid yoga practitioner for past 9 years and is a yoga instructor who is certified RYS 500HR. She had studied Sivananda Hatha, Ashtanga Vinyasa, meditation, pre-natal and yin yoga teachings in Rishikesh. Ashleigh has developed deep passion for yoga after experiencing the physical and mental benefits within a few years of regular practice. Yoga has helped to relieve her constant back pains, corrected her body posture and most of all, achieved a balance in life amidst her hectic work schedule.
Ashleigh is both a seeker and a learner who believes learning yoga is a life long process and is suitable for everyone regardless of different body types and age. She is blessed to be able to share and serve the mankind and her mission is empowering people to be more vibrant, inspiring students to reach their highest potential, and encouraging others to live each moment with grace, ease and joy.
Joy Liu, Instructor
♥ Her Journey
Joy is registered with Yoga Alliance as a RYT200 Yoga instructor. In addition, she has completed her 500 Hour Teacher Training at Yoga Garden San Francisco, including Prenatal, Yoga For Kids and Yoga For Teens certifications.
She discovered Yoga in a Singapore community class 8 years ago to cope with a hectic working-class lifestyle. Inspired to share her positive experiences with others, she started her Teacher Trainings 1.5 years ago, after relocating to San Francisco.
Her teaching style is nourishing and light-hearted with focus on alignment and breath awareness. In her classes, she emphasises on finding space, balance and relaxation in mind and body. She strongly believes that Yoga is for everyone and her mission is to provide a safe and non-judgmental environment for students of all levels.
Off the mat, she enjoys blending green smoothies for herself and her family!