Instructors
Kim Tay, Instructor, Classic Yoga
♥ Her Journey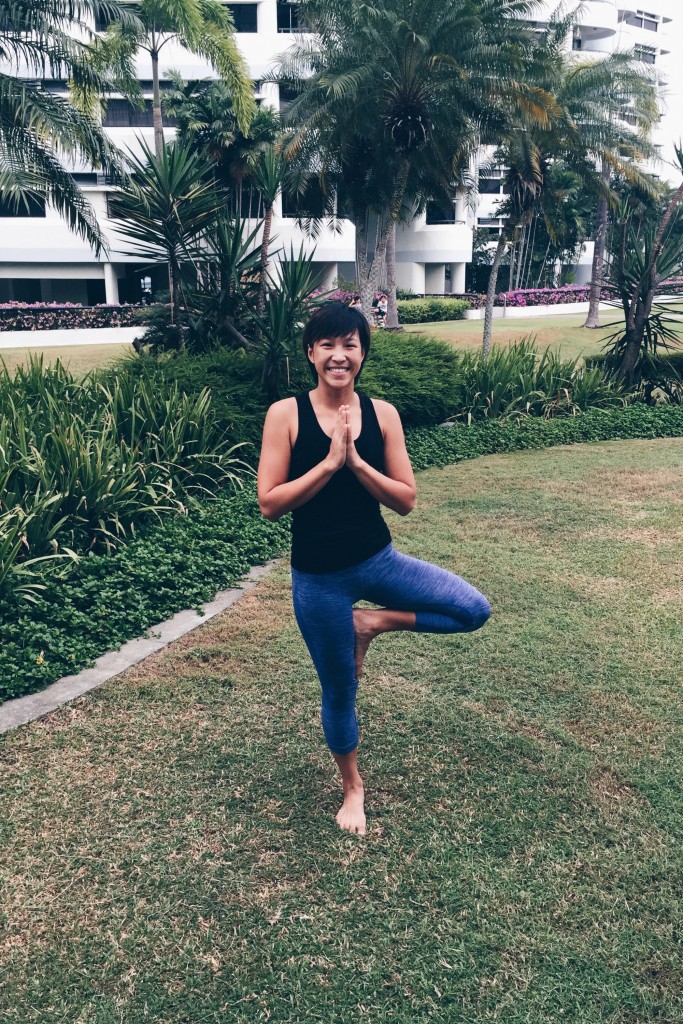 When I took my first ever yoga class it was not a consistent practice as I felt I was 'not flexible enough' to do yoga. Regular practice only started several years ago when I started practicing in a studio with teachers who place a lot of emphasis on safe alignments in poses and just being comfortable when practicing yoga.
With proper guidance in my yoga journey, I soon realise that yoga is meant for EVERY BODY, regardless of your flexibility. I also found calmness and peace in my hectic everyday life by simply devoting that one hour of practice just for myself, my mind and body. My daily migraine which developed after pregnancy was also cured after regular yoga practice.
I firmly believe that yoga is for everyone, one just need to find the right style and teacher to guide him/her through the yoga journey. With patience and practice, all will come in place.
Shraddha , Instructor
6 years of Yoga Teaching experiences in Singapore, Australia, New Zealand and Himalaya. Shraddha practices holistic living and the yoga way of life, she is accredited in fundamental study of Principles of Ayurveda. A certified Yoga Nidra practitioner, she is trained with a Diploma of Satyananda Yoga (Yogic Psychology, Yogic Philosophy, Applied Anatomy & Physiology). She teaches Meditation, Pranayama (yogic breathing), traditional Hatha Yoga where the breath is used as the focus to connect mind and body, aligning the whole practice on all levels (physical, mental, emotional). Her class is concise and well-articulated, educational, inspiring and nurturing, one will leave feeling balanced and satisfying.
As a kirtanist, her love for Bhakti Yoga keeps her grounded daily with her harmonium, sharing the heart space connecting with people of all cultures during travel teaching or at home ground. A passionate soul who finds joy in giving and sharing, she volunteers yearly at Yoga Retreat Centres in Australasia and Himalayas where she's blessed amidst the vastness
of Mother Nature.
An ex-marketer of 15 years, with a Bachelor Degree in Marketing & Management, she left the corporate world when the practice of yoga took a shift and manifested in her life. Being totally committed in sharing her passion and knowledge to inspire and help transform people's lives, she shares that "whether its physically, mental, emotional or spiritual, yoga has something for everyone at any stage of life's journey".
Nava , Instructor
♥ Her Journey

I have been practicing various holistic forms of Yoga since 2004. In 2013, my inner calling lead me on a journey to be a Yoga Teacher. I attained my Hatha Yoga certification in 2014 from Kerala, India. My deep affiliation with Iyengar Yoga enlightened me to see yoga from a different perspective via alignment and space creation in the physical body. I am currently pursuing my intro 2 at Iyengar yoga Singapore.
I have been teaching healthy back, beginners and level one classes at Iyengar centre Singapore for the past one year and I also had the privilege to  teach students in Greece and France during my travel in 2015. I strongly believe in the motto 'one learns to teach and teach to learn'.
I guide my students to cultivate physical awareness by using the body's intelligence which leads to proper alignment in their asana practice. My goal is to further sharpen my knowledge and skills, thus applying it in my teachings for the well-being of my students. I believe that yoga is a way of living and being present in the current moment is the key to a healthy mind and body.
Rina Tan, Instructor
♥ Her Journey
Started practicing yoga from 2009, I never had dream of becoming a yoga instructor. A friend of mine really inspired me how good yoga is and it was the vital turning point for me to pursue further in my Yoga journey.
To deepen my knowledge in yoga, i've decided to participate in Yoga Teacher Training Course by Shivashakti Yoga Institute (International), India, in Singapore. After which, I found my path to teach Yoga. I believe yoga is a never ending learning journey and continue with training and courses frequently.
Yoga is a long process and a learning journey. I aim to help people release their stress, maintaining good quality life through their practicing. I believe Yoga can inspire people to be healthier, more relax & calm in your body, mind and soul.
Ashleigh Yeo, Instructor
♥ Her Journey
Ashleigh is an avid yoga practitioner for past 9 years and is a yoga instructor who is certified RYS 500HR. She had studied Sivananda Hatha, Ashtanga Vinyasa, meditation, pre-natal and yin yoga teachings in Rishikesh. Ashleigh has developed deep passion for yoga after experiencing the physical and mental benefits within a few years of regular practice. Yoga has helped to relieve her constant back pains, corrected her body posture and most of all, achieved a balance in life amidst her hectic work schedule.
Ashleigh is both a seeker and a learner who believes learning yoga is a life long process and is suitable for everyone regardless of different body types and age. She is blessed to be able to share and serve the mankind and her mission is empowering people to be more vibrant, inspiring students to reach their highest potential, and encouraging others to live each moment with grace, ease and joy.
Joy Liu, Instructor
♥ Her Journey
Joy is registered with Yoga Alliance as a RYT200 Yoga instructor. In addition, she has completed her 500 Hour Teacher Training at Yoga Garden San Francisco, including Prenatal, Yoga For Kids and Yoga For Teens certifications.
She discovered Yoga in a Singapore community class 8 years ago to cope with a hectic working-class lifestyle. Inspired to share her positive experiences with others, she started her Teacher Trainings 1.5 years ago, after relocating to San Francisco.
Her teaching style is nourishing and light-hearted with focus on alignment and breath awareness. In her classes, she emphasises on finding space, balance and relaxation in mind and body. She strongly believes that Yoga is for everyone and her mission is to provide a safe and non-judgmental environment for students of all levels.
Off the mat, she enjoys blending green smoothies for herself and her family!